Wow, what an amazing weekend!
Lets start with the mission goal.
Meet people. Tell them about MAV. Hand out MAV stickers. Find Angry Joe and tell him about MAV. Did I mention telling people about MAV?
To start off the trip, I arrived at the entry gate at exactly 7:30am on Friday morning. It was at exactly 7:32am that I realized that I had completely forgotten to bring my PAX badge on the trip with me. Crap.
After about 45 mins of frantically talking from 1 enforcer to another I was able to find someone that was willing to help me. They asked me to please provide them with proof that I had destroyed my previous badge and they were able to reissue me a new one. An with that, the first picture of my PAX journey starts with this.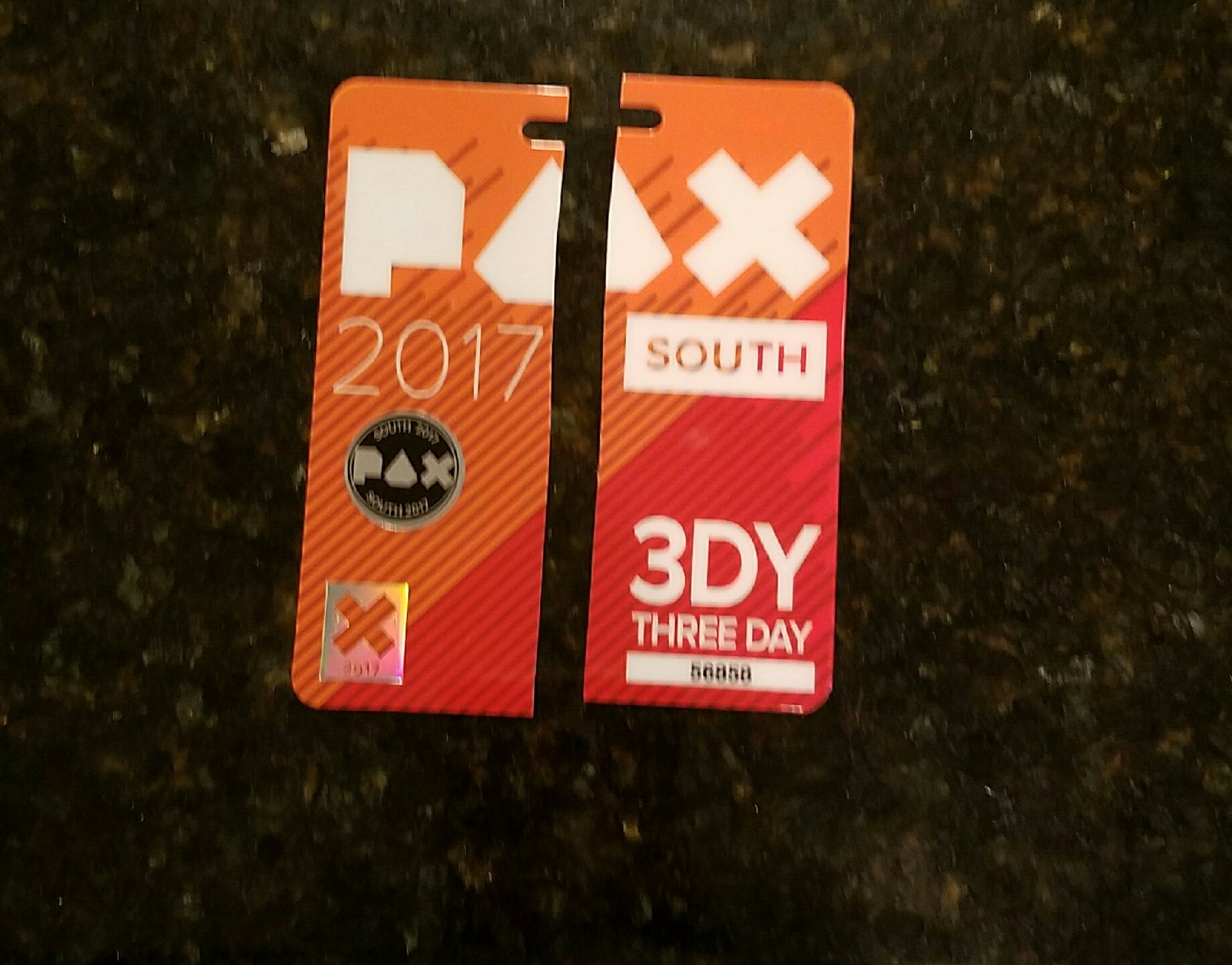 The good news is that I was so early in the line I was able to snag a great photo with the PAX sign before it got too busy!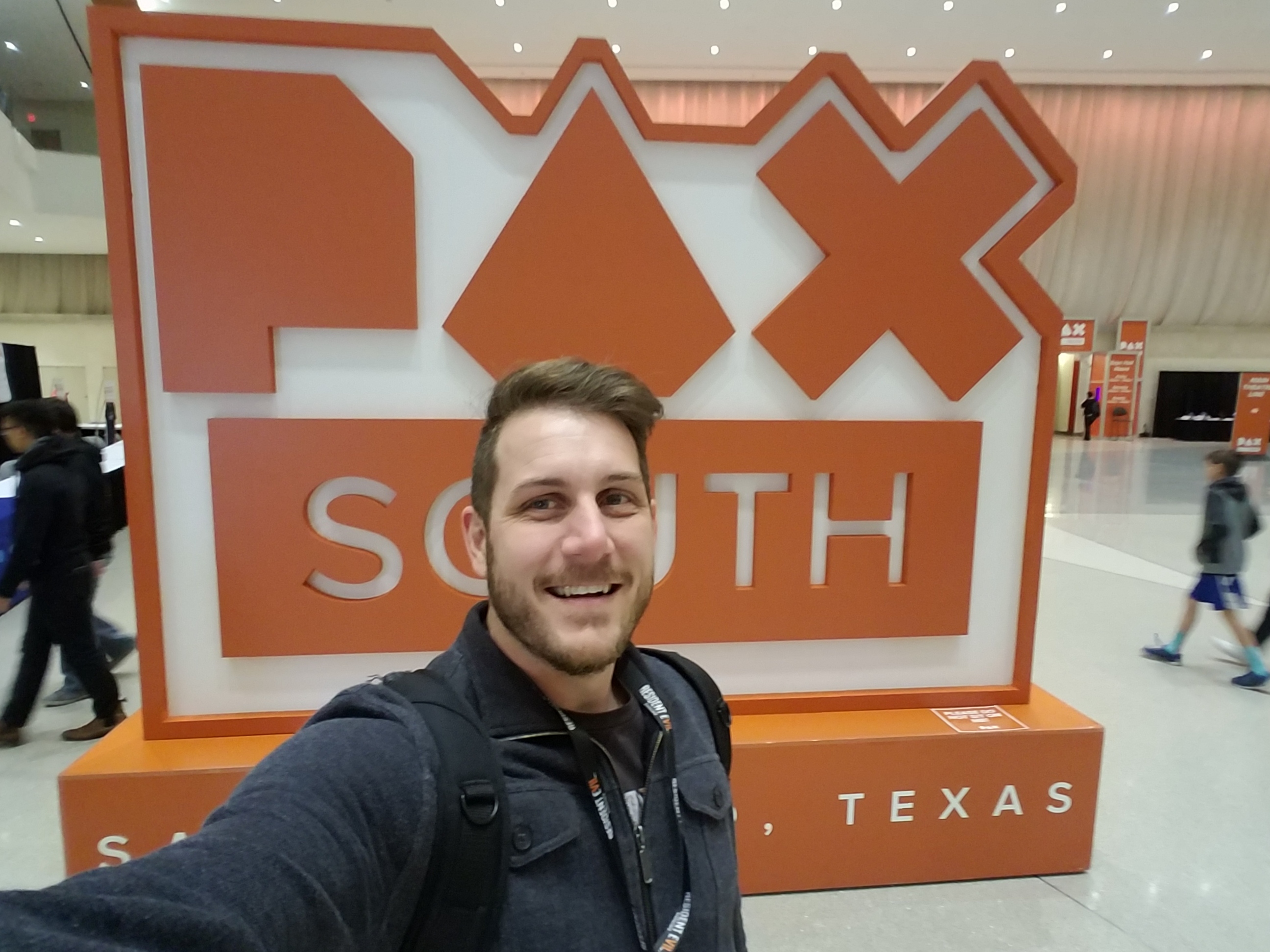 An thus the adventure had begun!
I spent the next few hours waiting in line at the main expo hall, making friends with everyone around me. I walked up and down the rows a few times [a row is a line of ~1000 people] handing out stickers and talking about MAV.
Once the expo hall opened up it was a pretty mad dash as all the attendees rushed to be the first ones at any given booth. There were a LOT of people!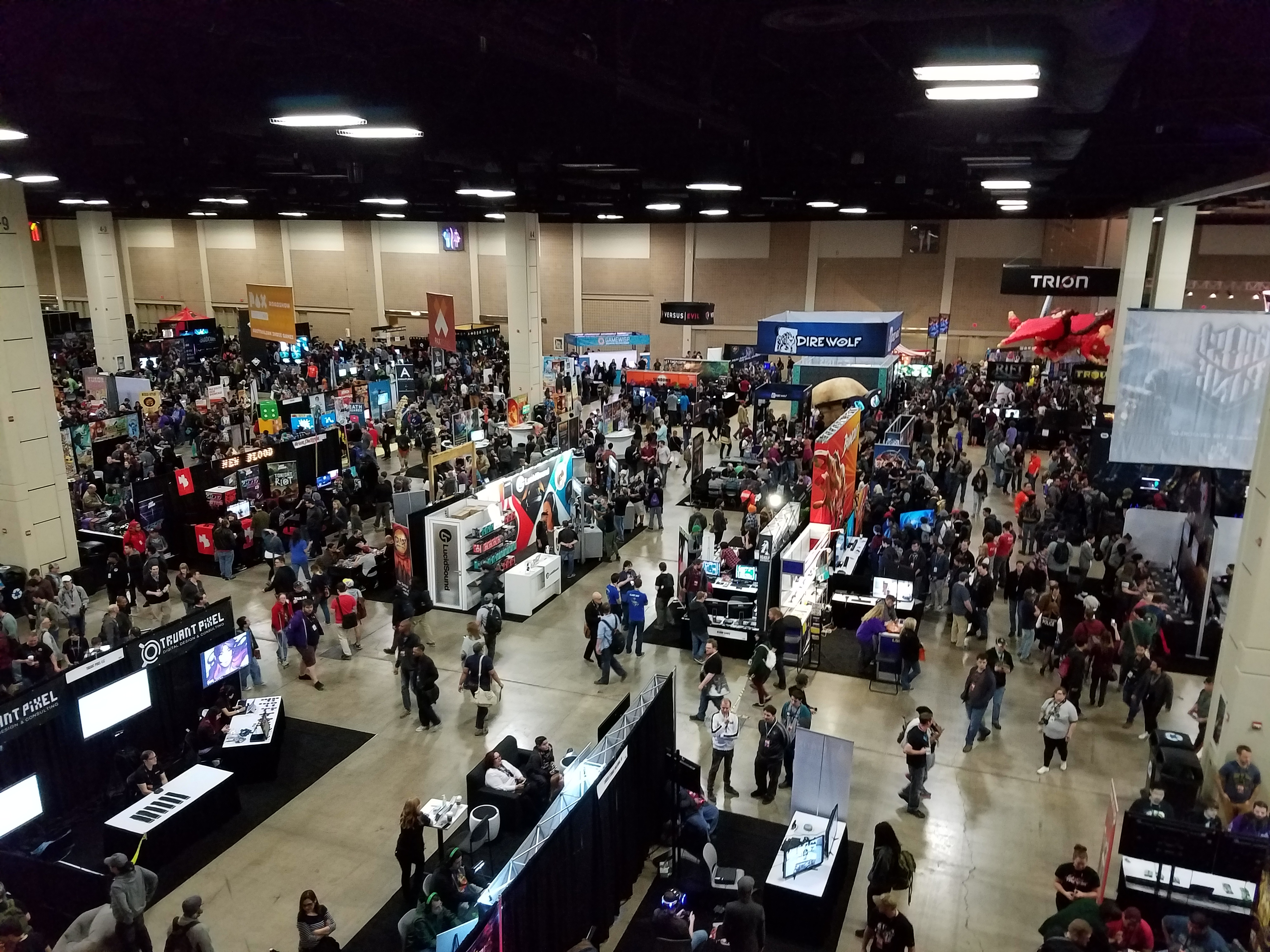 I spent some time checking out the Expo hall floor and talking to people that were waiting in lines. It was a lot harder to hand out stickers here and start conversations just because of all the attention grabbing booths and loudness of it all. It's ok, because I had a mission!
I was 3rd in line for Angry Joe's autograph session. I spent an hour an a half in line, thinking about how I would approach him about MAV. I had a lot riding on this moment and I didn't want to freeze up like I did 2 years ago.
When it was my turn I simply stated to Joe, "Hi, I am a big fan. I know that you were a fan of Chromehounds. I just wanted to let you know that I have devoted the last 5 years of my life to bringing it back alive."
He jumped up and literally gave me a full 'wrap around' hug and said he was excited to hear about it! I had a quick conversation about MAV with him, left him some stickers and business cards and was able to take a nervous and shaky selfie!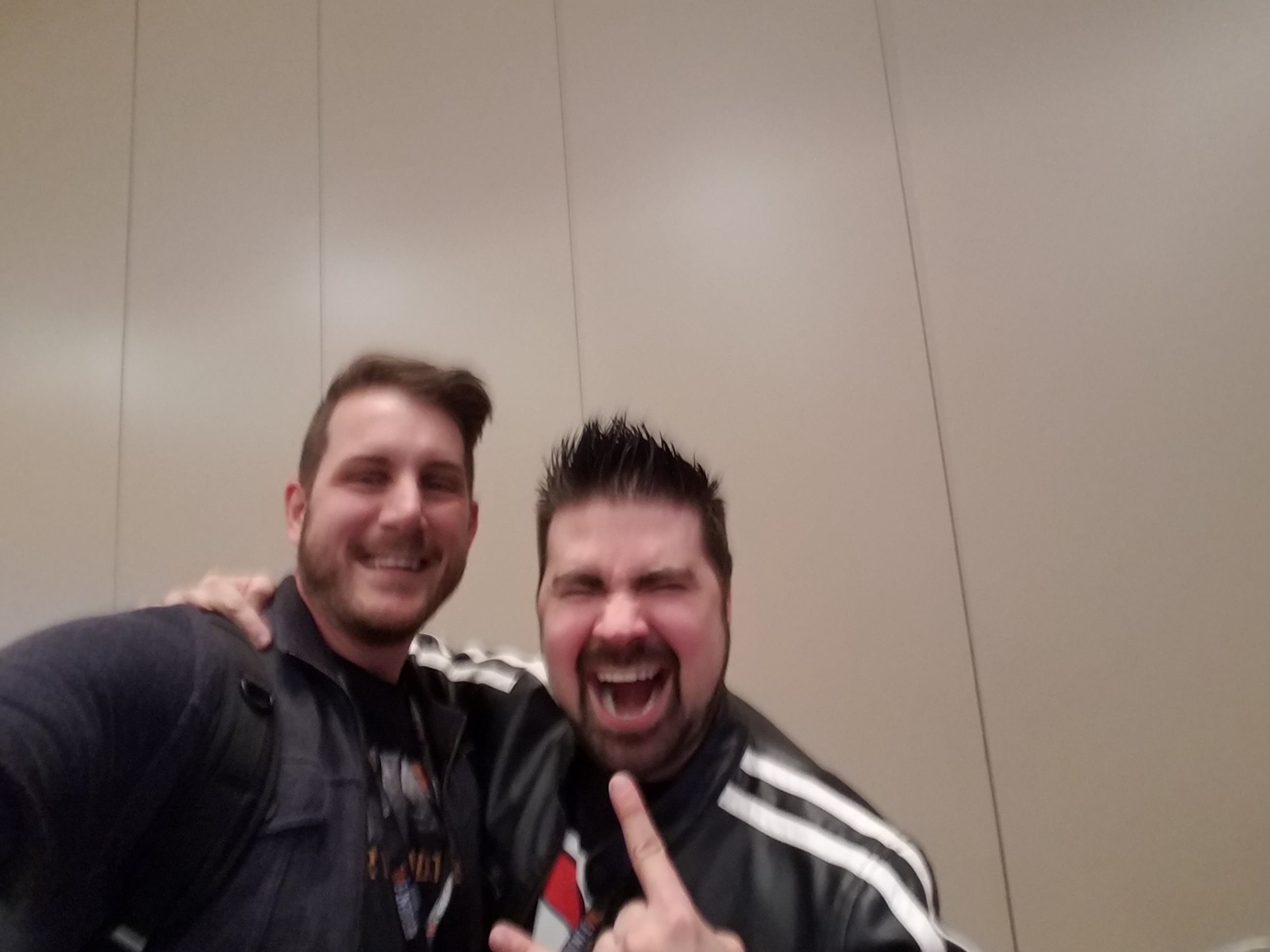 It wasn't until I was walking away did I realized that I never got his autograph! 🙁
From there I high tailed it back to the main expo hall so I could meet with some awesome twitch streamers.
Tigerwriter was impressed with my height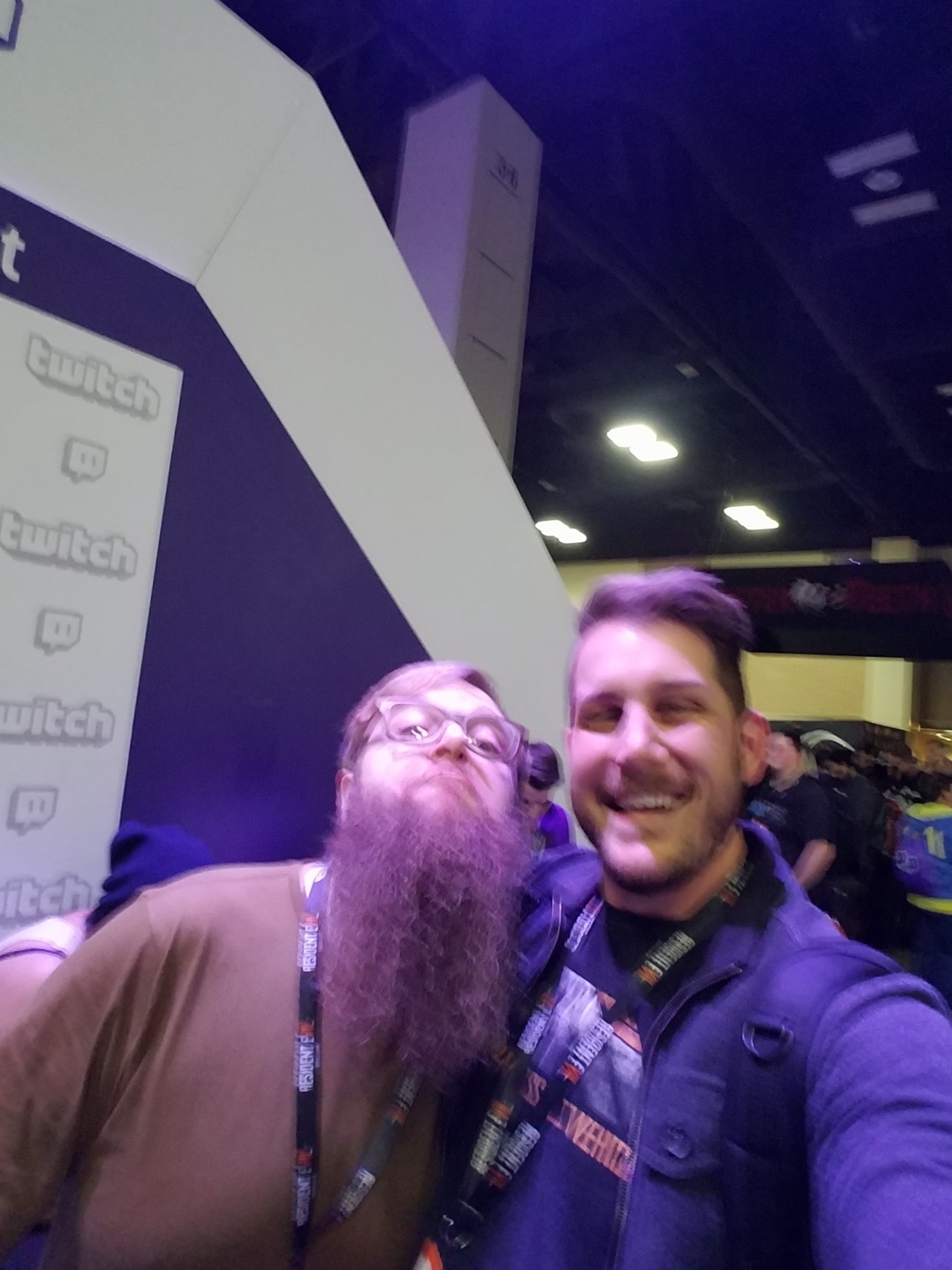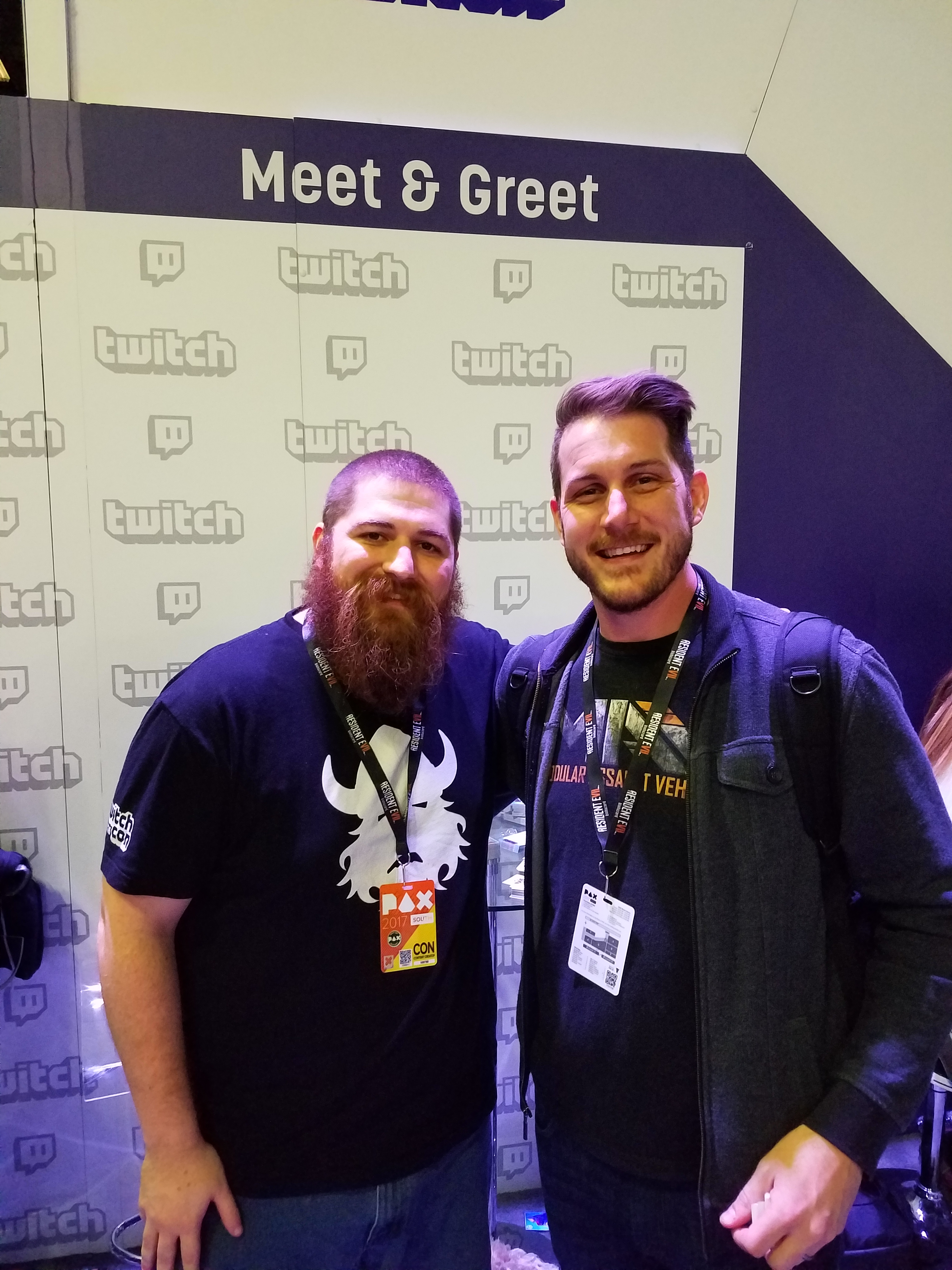 And I met with MANY more streamers, youtubers, and other developers that were interested in MAV!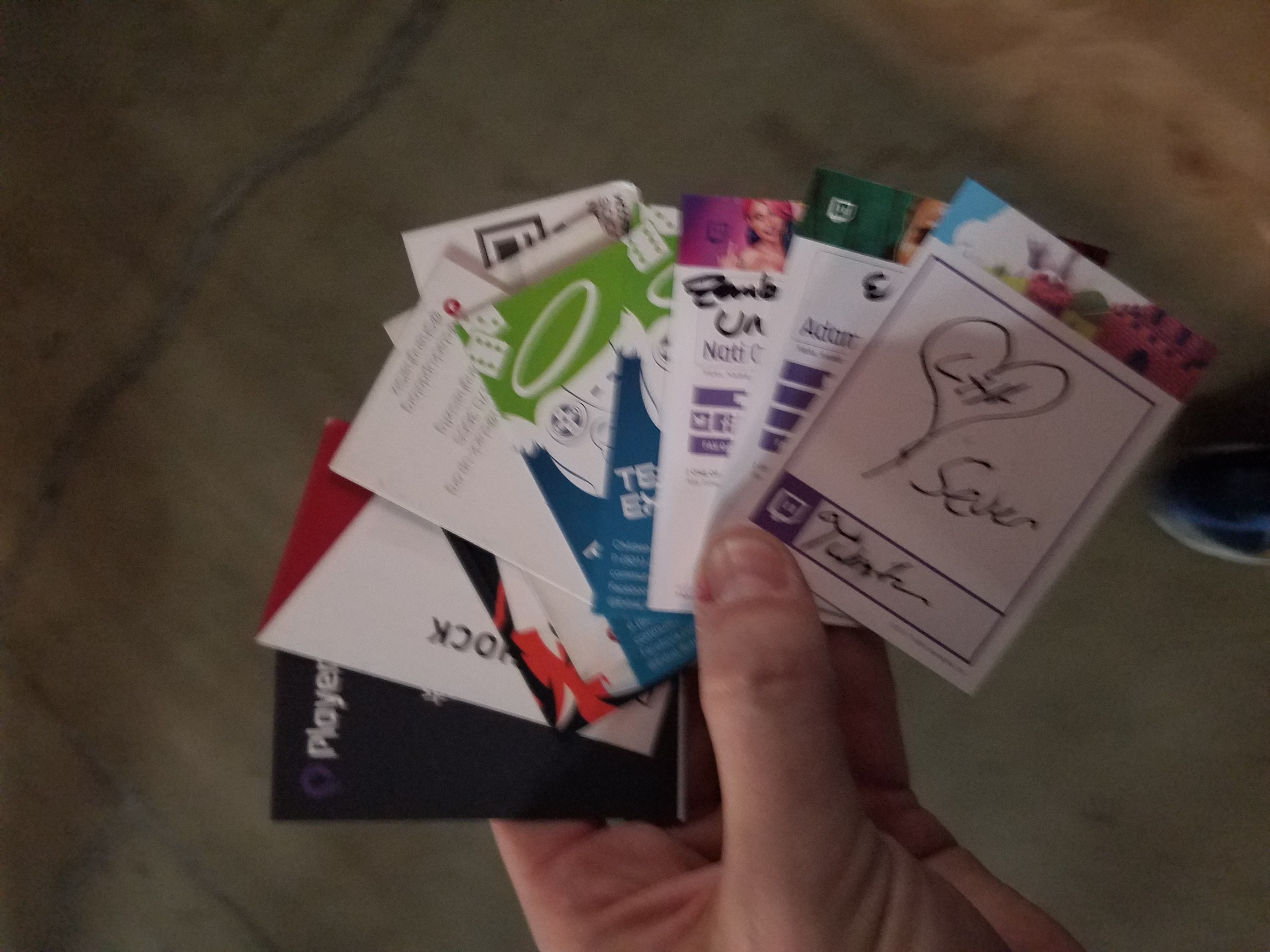 To finish out Friday I headed over to the Twitch after party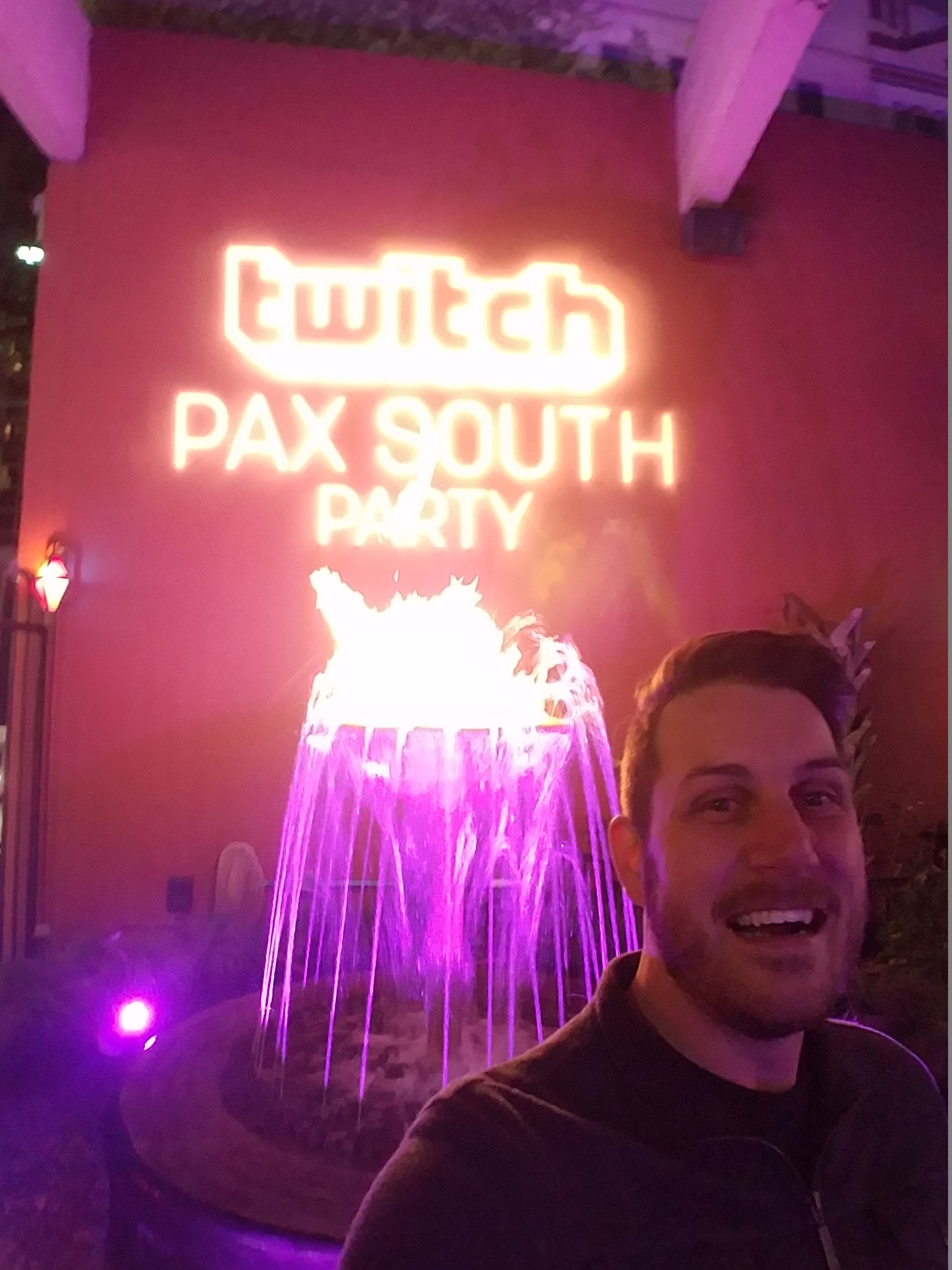 I was able to meet with even more streamers, a few members of the gaming media, some developers, and lots of other people!
Saturday was more of a 'work day' for me. As with all days at PAX, it started with a line.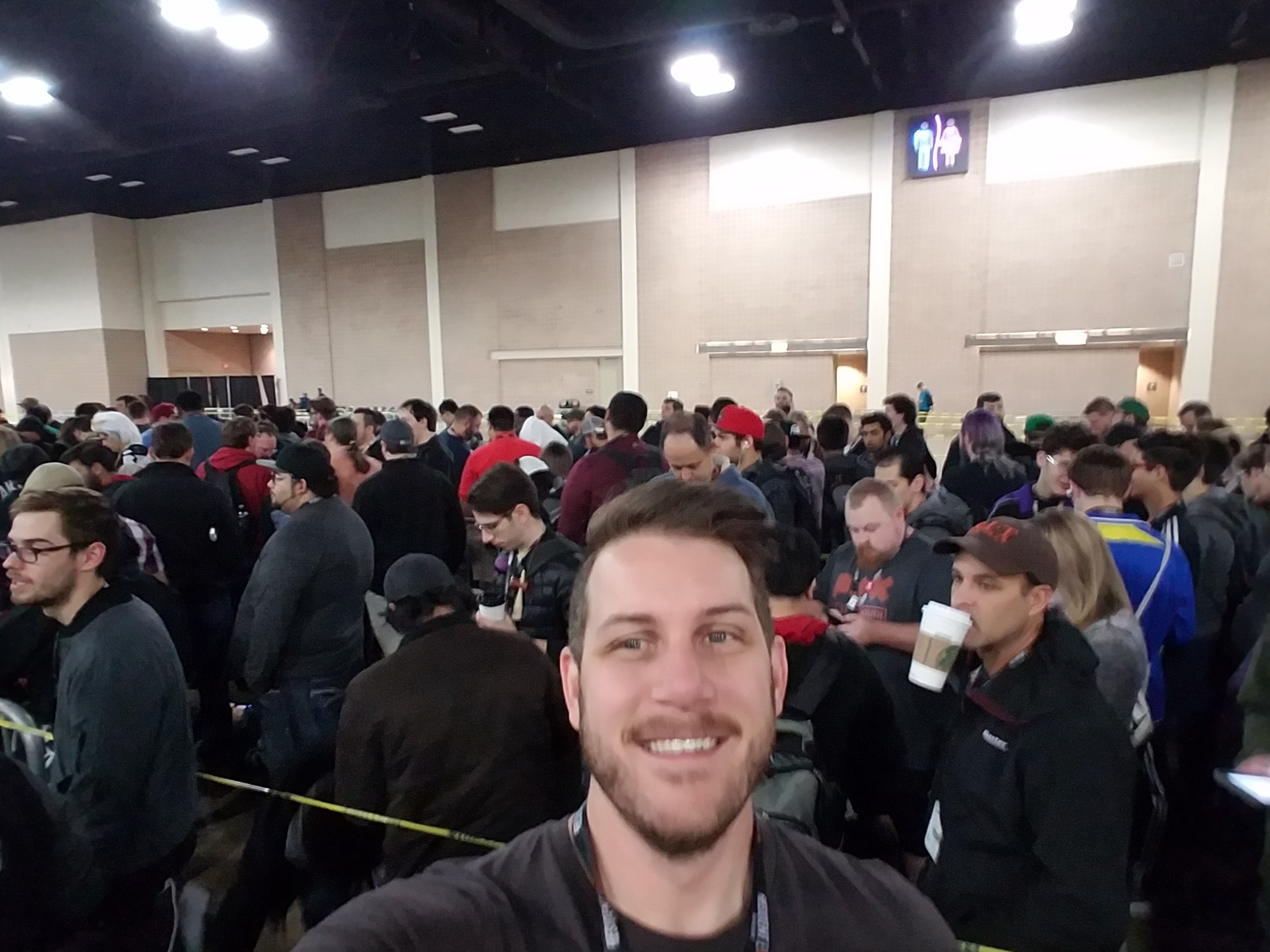 I spent all day handing out stickers! See this crowd: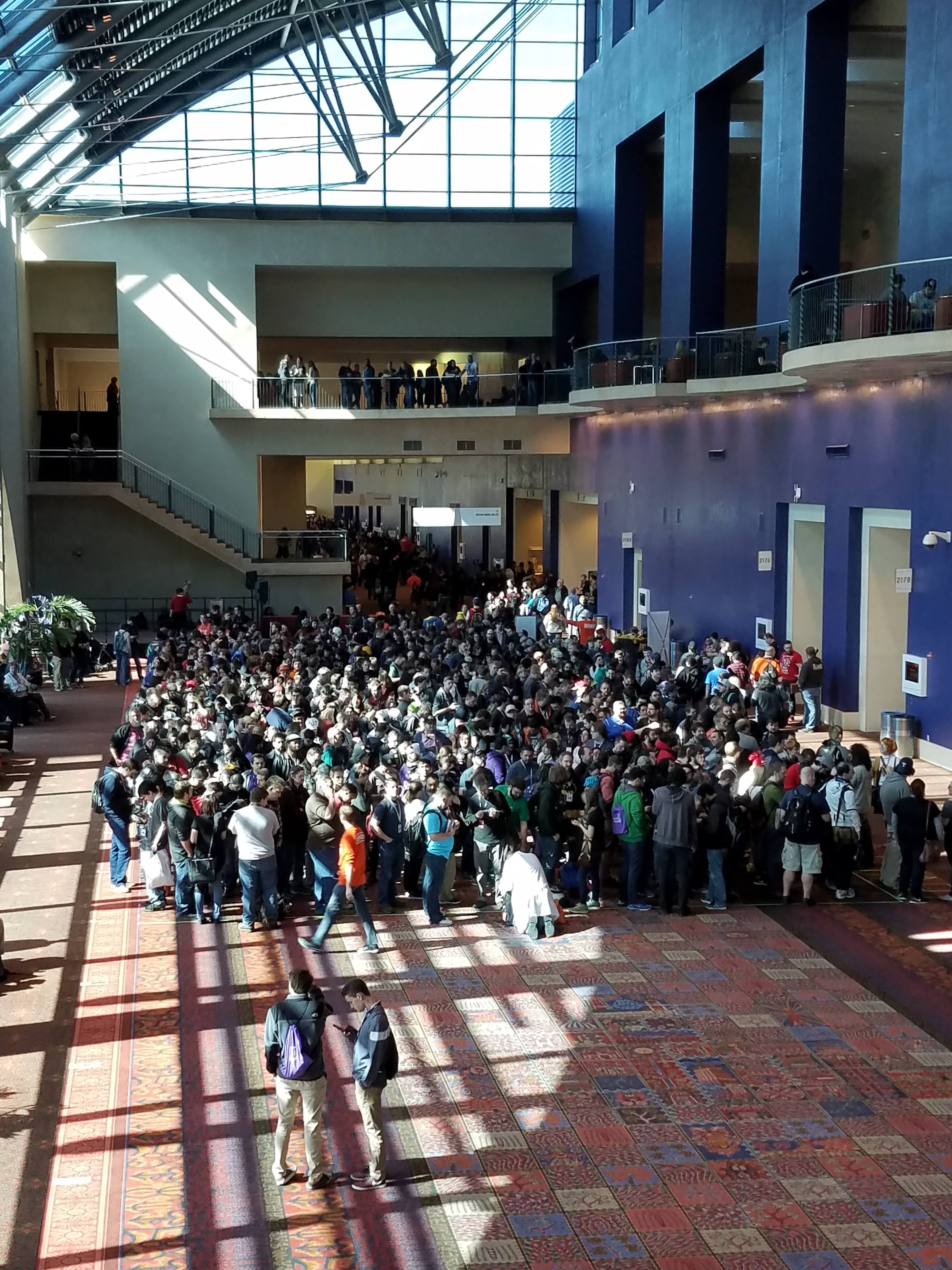 That is the line to hear a talk about 'Awesome games you have never herd of'. Guess what game they all heard about 🙂 And they all got a sticker to boot!
I spent a large amount of time in the hallways handing out stickers. And that is when I learned something.
Some Enforcers [PAX volunteers] really don't like you handing out things if you are not an exhibitor. Even more so, PAX HATES Stickers. I was asked to leave the building 🙁
So, I went and grabbed some lunch, and headed back in and started handing out more stickers!
I took advantage of the Saturday night concerts: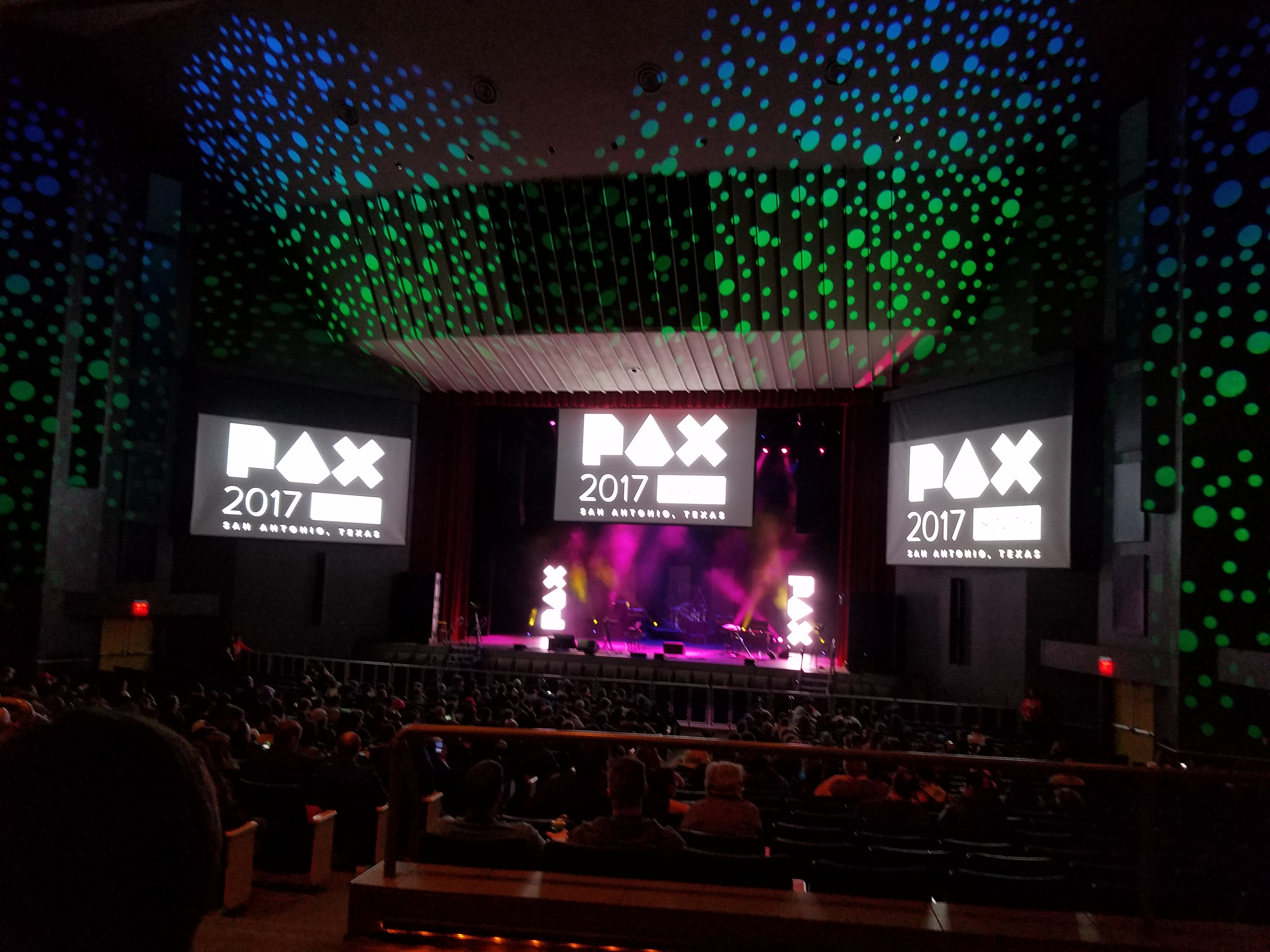 and handed out stickers to single person leaving the concert! Unfortunately, that means I handed out a sticker to one of the event organizers. I was escorted out of the building this time. But I still had my badge! Given that it was now 11 pm, I called it a night!
Sunday was a bit less eventful. The inside of the building was fairly sparse, so to maximize my 'sticker-ing time' I stood outside the building and passed out stickers to everyone as they arrived. I stood outside the main entrance for 3 hours handing out stickers to everyone as they entered the building. The best part of this, the event staff were perfectly ok with this behavior! They were even supportive of me as I helped direct people to the correct places when they approached me with questions. Overall it was much better, other than being in the cold and the wind.
So, in total I handed out ~4,000 stickers and 500 business cards! That is far short of my goal of 10,000 stickers, but I do think it is a good start in the right direction. The best part is that I am already seeing activity from it, both in emails, new followers, and site traffic, as well as actual purchases.
Most encouraging to me however, was that nobody gave me a sticker back. It seems simple, but when they would take the sticker, many would ask what it was for. I would respond with a short "It's a PC mech game." and I would ALWAYS get an excited response. People liked the stickers, they liked the idea of what MAV was, and they liked the impression that it was giving them. I even had a few 'collectors' that would find me through out the day to get more stickers so they could try and get all 4 versions. Or people that got a sticker and would come back after a while to get more for their friends. When starting this, and even when doing things in the development of the game, it's very easy to get overwhelmed by the fear of rejection. Mean comments, comments that hit your insecurities, or even indifference can all take a mental toll, no matter how strong you are or how well prepared you are. I have been truly blessed by both the MAV community and the gamin community at large with the amazing amount of support that I have received.
More so than anything, this trip cemented to me that MAV is something special. The community makes sure of it. And I owe every single one of you a giant thank you and a hug!
Here's to starting 2017 off with a bang!