This was the logo I created when I first envisioned the game of MAV. A game about heavy robots, battling it out on the wastelands of [someplace to be determined] and doing [things to be determined] while also having to deal with [a cool thing. I will think of it later].
I had a very vague idea of what I wanted, metal and rust, and I had some moderate image editing skills. Mind you, I had just created the name of the game about 2 hours prior. So I went to town, trying fonts, erasing and overlaying images, and in about 2 hours I had what you see above.
And it worked. Kind of. It was 'good enough'. I mean, what is in a logo anyway, right?
Now, some 4 years later, I feel like I can finally answer that question. What is in a logo? Emotion, recognition, and intent. When you have a logo that looks rushed, amateur, and slapped together, it conveys that about the product/game as well. In essence, one could argue a logo is every single thought and emotion about the game, distilled into a single image. Or maybe it's just something to look cool and get your attention.
Either way, I don't feel like the logo of MAV was doing a good job of either.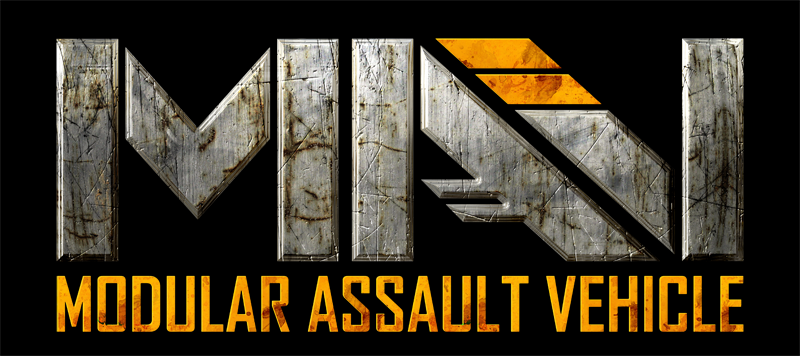 This logo, however, does represent MAV in a way that I feel is much more accurate. It's also much more readable, prints better, is better put together [ew to the kerning on the old logo], and I feel is much 'cooler'. Most importantly, I feel like it represents the intent of MAV more. A more polished product.
While you can get merch with the new logo now [shameless plug], it symbolically represents what is to come in the future for MAV. A solid, more polished logo is just the beginning, and I am so excited for this next update. Unfortunately, there are now so many secret changes in the game that I can't even take a screen shot of anything without giving it away!
Instead, lets end with the coolest MAV related tool I have ever seen! SergeDavid, you may know him from his hosting of MAV servers and running a TeamSpeak server, has put together and amazing part comparison tool for all the MAV builders out there. Check it out!